It happened - the proposal came out of nowhere, the all-important "yes" was said, and now you are engaged. Yet, you want something to remember this huge moment by, and so you've decided to book an engagement photo shoot.
However, even as you were talking to your partner, the photographer and friends, you worried that you might not look natural, comfortable or happy during the shoot.
After all, most people aren't big fans of posing in front of a camera, and if you're like others, you've seen people taking awkward or even unflattering poses for an engagement photo session.
This is why I offer these ten tips for better (maybe even the best) poses for an engagement photo session. Not only will your images look entirely natural and blissfully happy, but they will be without that "cheese factor" that makes a lot of couples hesitate to even consider such a significant shoot.
As one photographer lamented, "For some couples, the shots turn out as a series of intense stares, awkward kisses and unflattering hugging snaps." Fortunately, this can be easily avoided using my 10 tips for poses for an engagement photo session.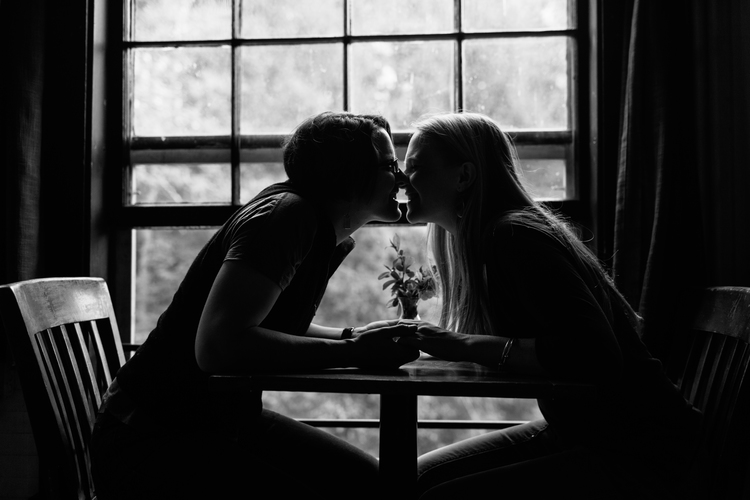 1. Start behind the camera
If you want to be sure that you are able to make all of the best poses for an engagement photo session, start behind the camera. Speak at length with the photographer, be sure your partner is with you, and be sure that both of you address whatever fears or issues might be troubling to you.
Maybe you are not the PDA type of couple, so photos of you kissing or holding on to one another will not be as natural as they could be for others.
Chat with the photographer, ask to shout out suggestions (if that will help) or tell what you're comfortable with. The more your photographer knows, and the more you talk beforehand, the better the poses for an engagement photo session.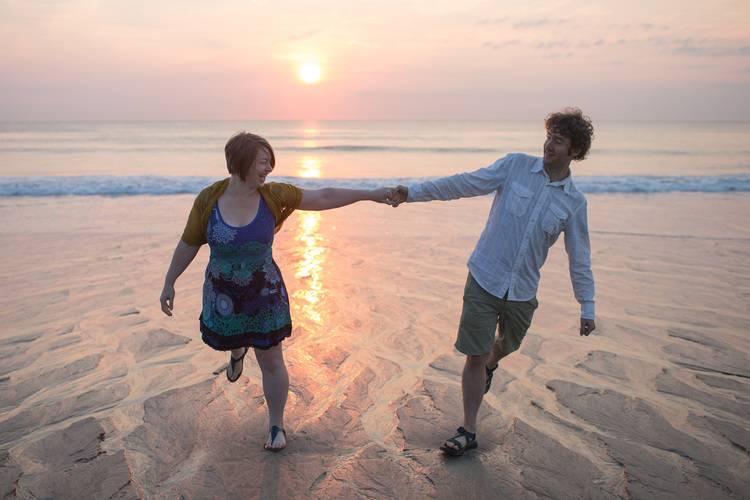 2. Chose the right setting
If you are a couple who never picnics in flawless garments, you don't want to opt for this sort of posed setting. If you are someone who doesn't often sit in front of a camera, you'll need to be comfortable about where and what you will be doing in the photo shoot.
What do you and your partner do most often?
Is it just walking the city streets where you live, hiking, gardening, going to the library, sitting on the sofa?
Whatever it is, choose both a setting and activity that is significant, relevant and allows the poses for an engagement photo session to look and feel natural.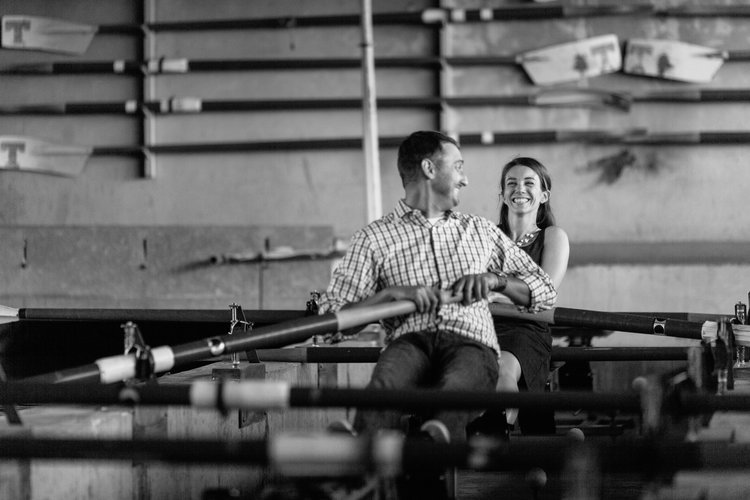 3. Think outside of the box
Does it seem odd to turn your back on the camera?
Maybe the concept of throwing a snowball at one another seems less ideal?
Maybe just jumping for the camera sounds odd?
The thing is, these are all things done in engagement photo shoots, so give yourself permission to think outside of the box, keep it fresh, and shake things up a bit to see what happens.
Engagement is supposed to be fun, and about a new direction in your lives. Let that show in the photos.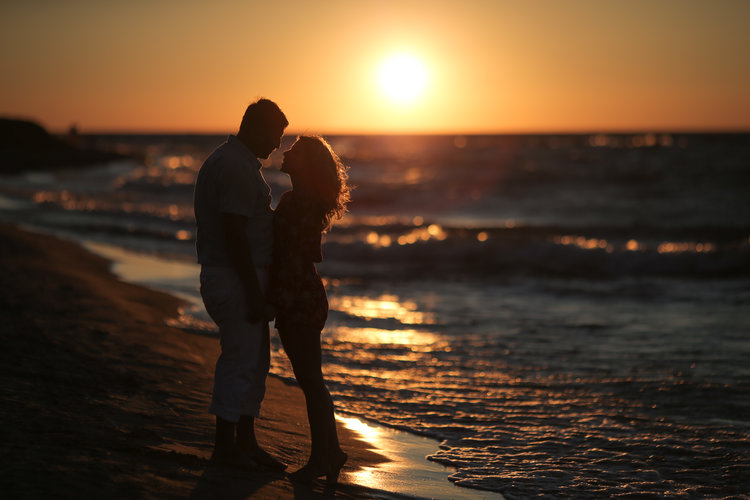 4. Know about flattering angles
It is very helpful to keep a few tips for flattering photos in mind as you get in front of the camera.
One of the most important is to keep your chin held up and your head turned just a bit away from the camera to ensure good angles. Be sure the camera is typically at a downward angle to your face (i.e. shooting a bit above) to get the most flattering shots.
Also remember to consider what you'll do with your hands during shots, and even practice your posture to feel more comfortable in your skin.
5. Think of the photographer as funny
…even if he isn't - This is a huge tip for good facial poses for an engagement photo session.
Laughing and smiling make the best images, so do everything you can to get natural smiles and laughter out of one another while the photographer is shooting.
Maybe even have a few inside jokes you've shared with one another about the session or the photographer (don't be too mean!) to ensure ongoing laughter.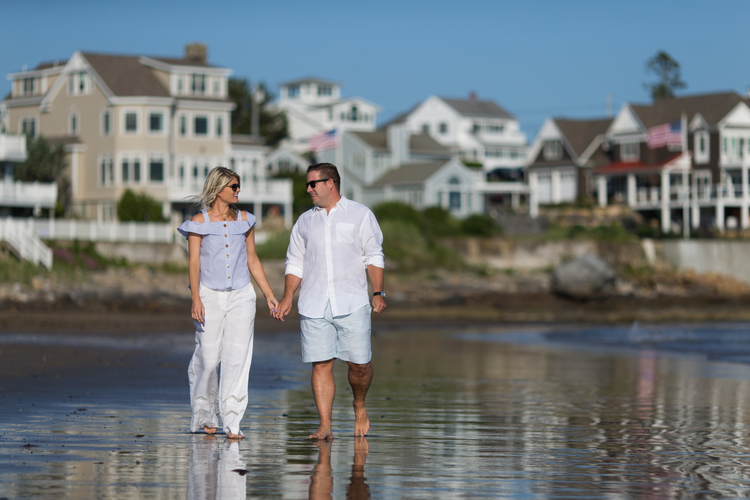 Even if the space you've selected is indoors and small, there is something that occurs when couples "pose" by walking around. They might instinctively hold hands, relax, or find something more enjoyable about the moment, and this can all be captured by the camera.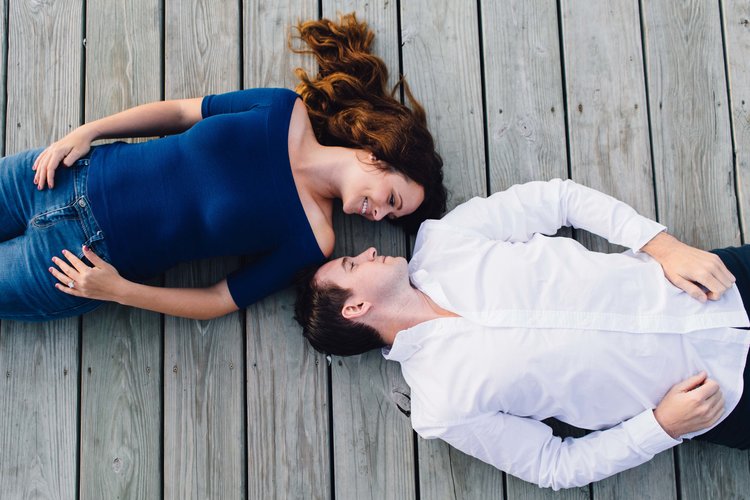 7. Forget everything you've learned about poses
Maybe you came upon this article because you used a search engine to find out about the best poses for an engagement photo session.
No matter how you ended up here, it's great that you planned, and that you have all of our tips for poses for an engagement photo session. However, remember to try to turn off all your thoughts or worries during the session.
If it suddenly seems that you are improvising or that a surprising pose (maybe you never imagined putting your foreheads together and keeping your eyes closed) feels the best, let yourself go with it.
8. Think about completely alternative spots
One of the easiest ways to pose comfortably during a photo session is to be in a space that limits movement. A favorite diner's booths, for example, might be a good choice.
Those seats you go for at the movie theater or the front seat of your classic car…these can make for great shots and totally "at ease" poses.
The best "ring" shots are often those without the couple's heads. They are also usually quite fashionable shots taken when the two of you are wearing great ensembles.
For example, one of you seated on a stone step with legs crossed and ring hand on the knee while the other stands close by with hands in pocket.
Some of the most flattering engagement photos most of us might see are those taken while a couple is at home and in their element. The lovebirds on the sofa, the couple kissing in the kitchen, or even a staged pillow fight can all make for fun and fantastic engagement poses.
When in doubt, work with a photographer you trust. He or she can tell you which poses look good, flattering, unflattering or exactly right.